Universal Music Center
Providing high quality, fun, affordable, and accessible music education using traditional and contemporary techniques. Students of all ages, backgrounds, and skill levels can learn and enjoy a musical instrument.
COVID19 UPDATE
From our Executive Director, Mike Arturi

In accordance with the "Shelter-in-Place" orders, and for the health and safety of our staff, students, and families, UMC is offering

ONLINE music lessons ONLY, until the order is lifted.



Lesson schedules will remain intact and unchanged. Accessing your online lesson is simple and easy. You do not need to download any programs or open any accounts. To join your lesson you simply click on a link provided by your instructor and you will automatically join your lesson. Please communicate with your instructor for further details or call me on my personal cell phone of: 630-561-7943.
My sincere thanks to you all and please stay safe and sane during these strange and ever changing times. – Mike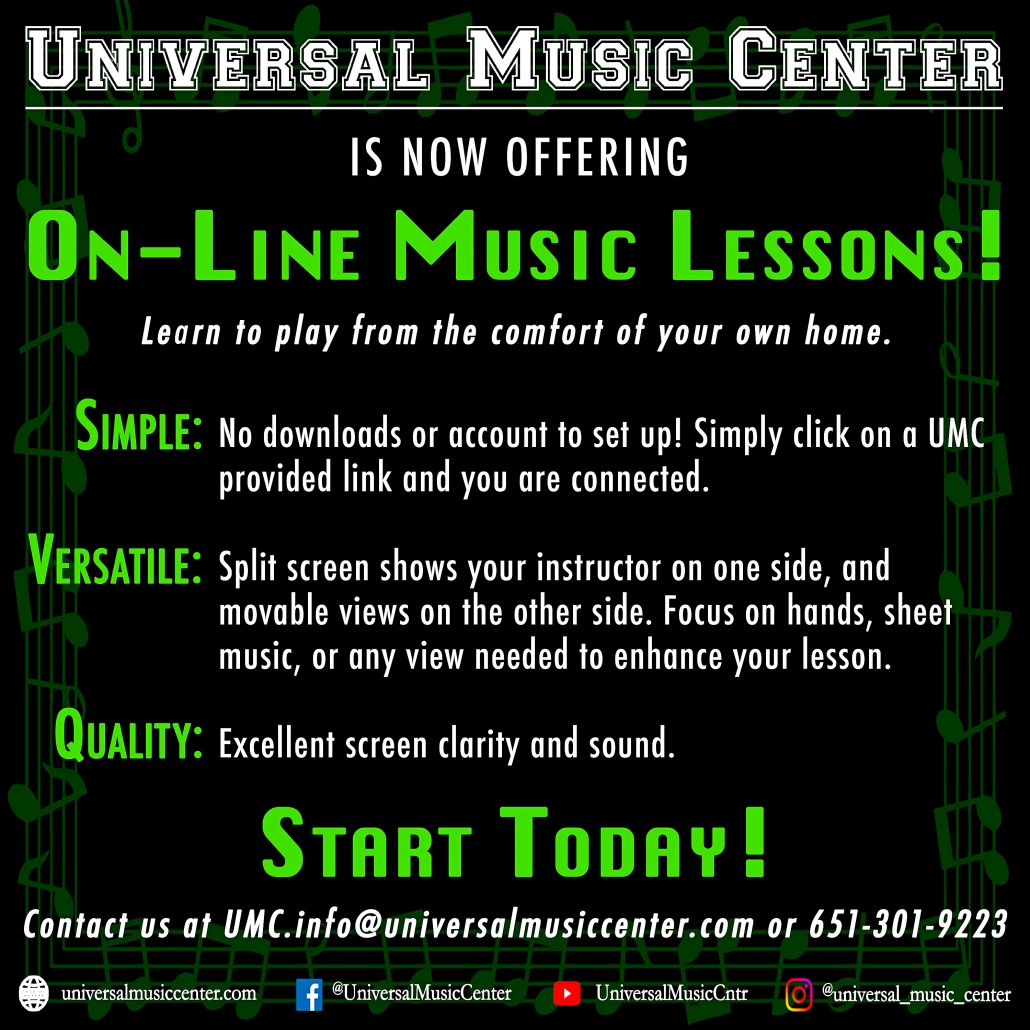 BIG THANKS!
We are so grateful to all of our donors. We could not fulfill our mission without your support. Thank you for helping us enrich lives through music education!
Universal Music Center's MISSION is to enrich lives
through music and live performance education.
Our core program provides students the opportunity to gain the life skills of preparation, professional conduct, team work, and pride in accomplishment. This program includes one-on-one private lessons, a monthly music workshop, and optional quarterly live performances. The live performance option gives students a sense of focus, and makes their progress a tangible reality.
UMC is located in Red Wing, MN and serves Goodhue County and its surrounding area. In addition to our core program, UMC offers a lesson only option, a Native American Flute program, a summer songwriting program, an after school children's songwriting/music appreciation course, Drum Circles for health, community, and corporate populations, a Complete Concert Creation course, and more offerings through community partners such as Community Education, library programs, Red Wing Arts, The Sheldon Theater, and the YMCA. UMC is proudly affiliated with Turnaround Arts, CompasMN, and The Anderson Center for the Arts.
High quality music education plus a LIVE on-stage experience option!
Beginner to advanced – ALL ages – ALL instruments – ALL welcome!
University trained and industry experienced instructors!
No pressure, flexibly scheduled lessons, set your own goals and pace!
Meet our instructors and learn more about our program here:
View Our Annual Report
This program is made possible by the voters of Minnesota through a Minnesota State Arts Board Community Arts and Education Support grant, thanks to a legislative appropriation from the arts and cultural heritage fund.